O is for Ornery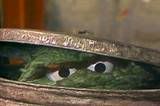 (Photo from photobucket.com-sonofj)
Feeling kind of ornery today.
Maybe it's the rain. I don't mind having
some
rain. And, I love that my crappy back lawn is looking green. But, when you're sending kids off to the bus in the morning, it's hard to make them walk in the drizzle. So, I drive them. In my pj's, socks, no make-up and bedhead. I pray that I don't see any adults on my way.
I also don't like the grayness. I need some sunshine.
Perhaps it's the fact that Noah is standing by me, his chin on my knee, saying, "Mom. Mom. Mom. Mom."
"What?!?!"
"Can I go to Lindsey's?"
"No."
"Mom. Mom. Mom. Mom." We have this conversation over and over. I think I need to make Lindsey's mom some banana bread to apologize for the fact that my son shows up at her house a dozen times a day.
The fact that my house smelled rancid this morning is part of the problem. I got up and immediately wrinkled my nose. Honestly, what died? I searched the house. Looked under the kitchen sink for a leak, or a corpse. Nothing. I lit a candle. I cleaned the bathroom. I walked around sniffing. I looked like a bloodhound searching for racoons. I finally found the source- a pile of wet towels and rags by the washer. Holy Stench, Batman! One of the disadvantages to having kids that do laundry? They tend to ignore anything that doesn't belong to them.
Or, maybe it's those danged hormones. That always-amusing emotional roller coaster I get to ride every month. Cranky, weepy, fuzzy and fatigued. Up and down I go. I like taking my family along with me. I'm generous like that.
(Morguefile.com)
PS- One thing that is NOT making me ornery today is being able to guest post on
Periphery
. It's one of my
very favorite
blogs. Tanlgedlou is incredibly talented and I'm honored that she let me write a post while she's on vacation. Hop on over and check out
my post
, then go back next week when she's back. You won't be disappointed.