RSVP- but don't be late!
I am very punctual. So much so that I feel like I'm late if I'm not at least 5 minutes early. Luckily, the Handy Man shares this character trait. Unluckily, it isn't inborn and my children (especially the teens) are still learning.
It is because of this that I have been considering NOT going to a party. See, it's almost over, and I feel like it would be better not to show up at all. But, it's an internet/blogging/linkup party, so it isn't as if the other guests will look over their dessert plates and wonder why I couldn't get there on time.
Still, I am throwing my hair up and putting on lipstick and my favorite top.
Larissa
, the party's host, is one of the sweetest people on the planet, and I'm sure will excuse my tardiness. (If you haven't read her blog, you should. Along with being sweet, she's incredibly smart and writes like a dream.)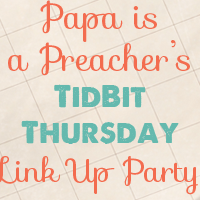 For the party she simply asked what we've been up to. I have not been up to blogging, if you hadn't noticed. I haven't been writing much either. I should. I should be taking every minute I can to write my little heart out. I know that my spare moments are quickly dwindling and will all but diappear once I get a job.
Oh, yeah, that. I've been job hunting. This is not a pleasant experience. I have no marketable skills, no job history, and I'm old. These are not the things prospective employers are looking for.
We had our annual church/neighborhood Halloween party last week. I have a love/hate relationship with this party every year and the fact that it happens so early in the month. I'm supposed to get costumes ready a full three weeks before Halloween? It's always a mad dash to get something thrown together, and my kids change their minds daily. When the day of trick-or-treating comes up, I am glad that we've already gotten something together.
My husband's uncle died last week. He told me this as an afterthought on Thursday. His family is not very close and we hadn't seen Uncle Orion in over a decade. But, although they aren't close, my husband tries very hard to be there for his parents. The funeral was Saturday and it was about an hour's drive. There was no question that we would go.
The drive up was peaceful. (We left the kids home.) The colors in Logan canyon had dulled a bit, but it was still lovely.
My first attempt at taking a picture from our moving car
was less than successful.
Much better.
I used to hate funerals. I guess it depends on the person who died and their age. This one was so nice. I learned many things about Orion and his brothers.
The brothers.
Carrol, Lloyd and my father-in-law, Mayo.
(I could write a whole post about the names in my husband's family.)
Someday, at my funeral, I hope that I will have people stand and say what a good friend and mother I was. Can't think of a better tribute.