The Difference between Fan and Fanatic is a Fine Line
If you could have dinner with any celebrity who would it be?
I've been asked this before and honestly, my answer is no one. I'm a fan of many people, but, really,when you meet them, what do you say?
"Uh...huh...I'm such a fan. You're so awesome. Like, totally."
It's not like I have anything in common with Jennifer Garner or Sandra Bullock. Maybe I could give them beauty advice.
I know. You're laughing. So are they.
There is one celebrity, though, that I thought I'd like to meet. Are you ready?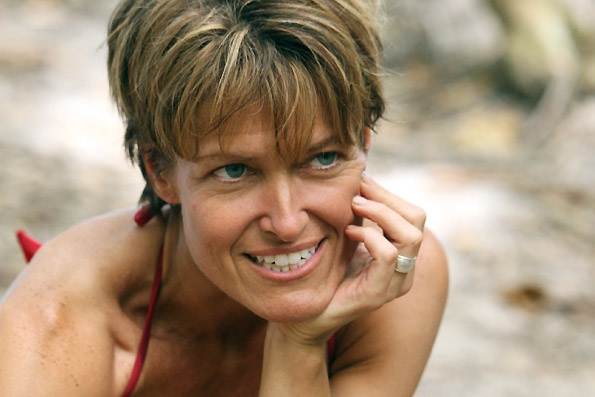 (Photo credit: survivor.wikia.com)
Doesn't look familiar? Does this help?
Yes, Dawn is a Survivor contestant. She was originally on a couple years ago, and is back this year as a 'favorite'. Why would I want to meet this 'celebrity'? Because we
do
have things in common.
Dawn is from Utah, she is the mother of 6 kids and she's a Mormon. (She's also a professor at BYU, so clearly, much smarter than me, but we'll overlook that.) We cheer for her every week as we watch the show.
So, yesterday, I was at my friend's church for her son's missionary farewell. We were early and were walking the halls looking for the bathroom.
Then, it happened.
I turned around and found myself face to face with
Dawn.
I almost choked. My heart started beating faster and then, the weirdest thing happened. My brain completely stopped working. It sort of said, "I know you're going to make a fool of yourself, so I'm stepping out."
And, then, left alone without my brain, I proceeded to make a fool of myself.
I don't even want to tell you what happened. It was
that
embarrassing.
I'm horrified that my husband was a witness. He'll be able to hold this over me for years.
I will tell you that there was an awkward greeting, an equally awkward mention of how we're such huge fans (Yes, I pulled my husband into the embarrassment with me.) and there
might
have been a hug. (Oh, man, a hug! What was I thinking? Oh, right, I wasn't.)
Then, to make it even better, she went into the very bathroom I was looking for. So, it looked like I was stalking her. We had an almost normal exchange where I told her why I was there (she knows my friend.) She was so incredibly gracious and kind. I consoled myself with the fact that she probably gets that all the time. Probably not in church. And, probably not in the bathroom.
Thing is, I'm not just a fan. Dawn is the kind of person I'd love to be friends with. Pretty much blew that opportunity. Oh, well. At least I was memorable.
(Lia, if Dawn ever mentions this, feel free to tell her that I'm insane. She'll totally believe you.)